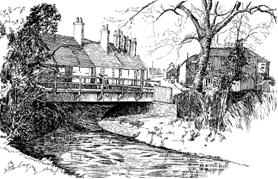 Welcome to the WVCA
Wallington Village Community Association is the civic amenity society that serves Wallington, an old settlement within the borough of Fareham in Hampshire. Geographically the village lies at the head of Portsmouth Harbour and is bounded to the north by the M27 motorway, to the east by the motorway approach road and lies for the other two sides beside the River Wallington.
To see an aerial view of Wallington click here
---
Wallington Village Community, the forerunner to WVCA, was born out of adversity in 1979 to fight a Southern Water authority proposal to demolish the rare 5 arch bridge opposite the Cob and Pen public house and to encase the river Wallington in a concrete culvert from the M27 to the Delme roundabout.
Raising funds to fight the case led to 18 months of fund raising events in the village and our village magazine the 'Once in a While' was launched at this time. The fact that the bridge is still standing and the river still flows for everybody (including the ducks, fish, kingfishers & herons) to see and enjoy is testament to the efforts of those few community minded folk. The bridge was adopted as the central feature of the WVC logo to recognise its status as the 'founder' of the association. But there is a greater symbolism attached to bridges because they join things and they join people. To continue and develop the newly awakened community spirit we needed a permanent venue for meetings and community events.